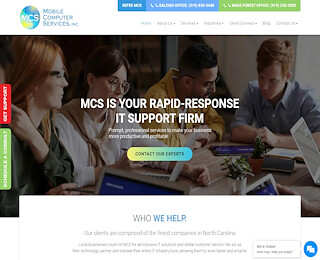 When we think about managed IT services, we seldom think about the field of dentistry. Still, dental clinics need IT services as much as any other business or industry does. Mobile Computer Services is the number one provider of dental IT solutions in North Carolina, and as you will see, there are a lot of benefits for dental clinics who implement our IT solutions.
If you would like to speak with a tech expert about the many customizable options that exist for dentists, either give us a call or send us an email. We're glad to listen to your needs, and help you find a personalized solution. Whether you're looking for a new IT solution to replace your existing system or a first IT solution to grow and scale with your business, Mobile Computer Services has your back!
Spend More Time on Your Patients and Less Time Dealing with IT
Your dental practice is a workplace, and the smoother it functions, the happier and healthier you, your staff, and your patients will be. After all, isn't it the job of a dentist to make sure their patients leave with smiles on their faces!? Mobile Computer Services offers practice management applications and one-on-one assistance for dental clinics. We don't set it forget it; we're there for the long-haul.
Imagine being able to manage every aspect of your dental clinic with one simple, easy-to-use solution. That's exactly what Mobile Computer Services can help you with! You'll be able to manage your practice, deliver a higher quality of patient care, and keep your patients happier than ever. We have all of the hardware and software that your dental clinic needs, and you may purchase or lease our equipment outright.
Make Accounting a Breeze
Accounting is one of the areas that our IT dental solutions help the most. You'll be able to monitor payments easily and discuss accounts that are outstanding with your patients. After all, patient communication is an integral part of the success of your dental practice. You'll be able to book appointments effortlessly and stay in touch with your patients for reminders and follow-ups.
Let Us Customize a Solution that Solves Your Problems 
When Mobile Computer Services customizes an IT solution for your dental practice, you'll benefit from sophisticated treatment planning software. You'll be able to perform advanced functions, such as presenting treatment strategies for clients that include financial and insurance provisions. Plus, with our paperless record-keeping system, you'll be able to manage your practice better, go paperless, and maintain HIPAA compliance.
Mobile Computer Services realizes that your goal is to satisfy your customers' needs. Let us show you why our technology solutions can meet your practice's demands. Your IT system will be dependable, and your software will be up-to-date. We'll provide you with backup and disaster recovery preparation and other information security services. We have experience in robust accounting software packages that are complemented by our expertise.
Contact Mobile Computer Services for the best dental IT solutions in North Carolina.
Mobile Computer Services, Inc.
9198309448
8009 Creedmoor Rd Ste 200
Raleigh
NC
27613
US